html>

Hi!

I didn't realise that we are down to less than a 100 day already to 2013! Oh my how time flies.

Kelsey Sew is hosting an great linky party on listing of the things we want to hustle this last 100 days..

So here is mine!




In blog format with links:

1) Jack Attack quilt - finish quilt top, quilt and bind

2) Vintage Modern Heart Quilt : Quilt and bound

3) Emmaline Bag

4) Tote bag + Lunch Bag

5) Piece Happy Go Lucky Quilt

6) Start on Gingko Blues Wall Hanging - raw applique quilt

7) Flower Power Pillow + Tutorial

8) Mini Quilts : one or two

9) Throw a Linky Party or Become a Swap Host

10) I forgot : My Irish Chain to finish quilt and Bound. Maybe it will be ready by end of this week.. oh hopefully!

I am a list geek! I love list of things to do.. I often have list for each week, one for school and and one for sewing!

Here is two of them on my wall for this week:





Well, have you made your list? Come and Join us!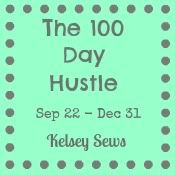 XOXO
Labels: 100 day hustle, kelsey sew, things to do list