html>
Hi!
This is my first post on introducing you to a "About A Quilt Sampler" Quilt Along (QAL) which I wish to do beginning early next year (2013).
Click on the button below to go to all post related to this QAL.
I do wish you join along if you are interested in learning and practicing free motion quilting on your domestic machine, or if you would simply want to make a sampler quilt. A sampler quilt is great as it provides quick exposure to learning lots of different techniques and different kind of blocks. So, i think it would be perfect for beginners and intermediate quilters.
The idea to this QAL is to keep a good journal of myself making a sampler quilt and to share with all of you tips along the way as well and of course to gain a bit of your share too.
So! What is so special about this Sampler quillt??
Well, I have decided to pick just 9 block, all simple and easy, because I rather focus on how to quilt them.
I really love looking at quilting designs up close and love how creative people can be and how such a simple quilt can look so different and so amazing after it is quilted. If you want to follow my inspiration board on pinterest, click
here
.
Among my favourite quilter, a great inspiration to this QAL, is Margaret from
Quilts Of Love
. Margaret is a long arm quilter, and she does an amazingly beautiful quilting. I am always amazed looking at her quilts and how a plain quilt top look unbelievably gorgeous once it is quilted.
Here are some pictures taken from her main
blog
with permission, which had inspired me to do this QAL.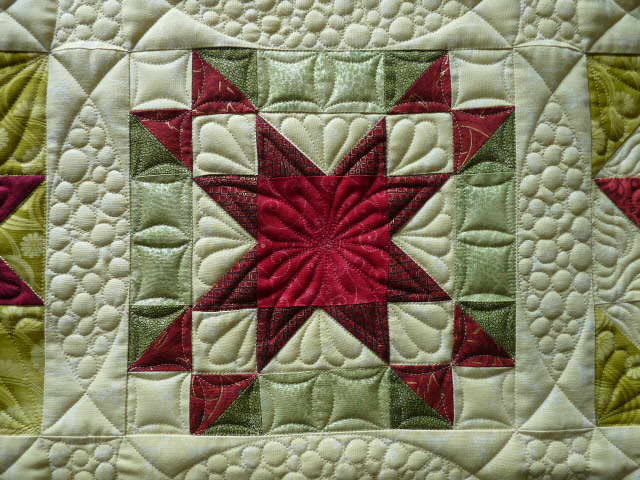 You can browse more lovely quilting on her
blog
.
So this About A Quilt Sampler QAL is going to be all about how to do customize quilting. We will tackle quilting by block instead of all over quilting with a domestic machine. We will be using the quilt as you go technique for each block so we don't have to worry about wrestling the quilt under the small throat.
I will try my best to make a good tutorial for the blocks and how to quilt them and at the end of nine blocks, we will piece them all together using the quilt as you go technique : there will also be a tutorial for that.
Now, now... if you are new to free-motion quilting, don't fret, there are no quilt police around, and all you need to do is be a little forgiven to yourself and believe that it will come to you with practice. and what better way to practice than to join along!
Well, till then, I'd love to hear from you if you are planning to join along!
xoxo
P.S : I am away in Melbourne for a conference hence no sewing update this week.. Apparently I left my hand sewing kit that I planned to bring along..LOL..
Labels: About A Quilt Sampler QAL, Quilt along, sampler quilt